Musicality Plymouth,.
Musicality Plymouth,.
21 February 2018 (by julie123)
On Saturday 3rd February Bethany, Cole, Kayson and Oliver ( and Chris) from Wonderland took part in Musicality Plymouth,.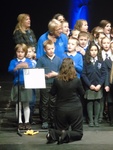 They were part of a massed choir of schools from around the City who sang 3 songs. Roller Ghoster, One in a Million and Hot Chocolate. The children have worked really hard to learn the words and signs for these songs and were absolute superstars performing on stage. They then sat in the audience to listen a other groups from around Plymouth including the Marine band, a brass and woodwind group, a choir and a group from a local Secondary School who had both musicians and singers. A huge thank you also goes to parents who supported this event and made it possible for the children to take part. Fingers crossed it goes ahead again next year.